School Info
Mario P Gatto
Jr./Sr. High School Principal
mario.gatto@k12northstar.org
372-3110 xOpt. 4
Address
675 Ravens Way
Eielson Air Force Base, AK 99702
School Hours
Students: 7:45 am - 2:15 pm
Office: 6:45 am - 2:45 pm
Announcements & Upcoming Events
JH Vball Con. Tourn
Date:
Tue, Apr 28, 2015 – Thu, Apr 30, 2015
7th @ Eielson
8th @ Randy Smith Middle
Draft Calendars: 2016-17 & 2017-18
Wednesday, April 22
The draft calendars for the 2016-17 and 2017-18 school years are available for review and comment. To provide feedback to the administration, use the Calendar Feedback Form.
Comments will be accpeted through May 8, 2015.
DECA Nationals
Date:
Fri, Apr 24, 2015 – Wed, Apr 29, 2015
Orlando, Fl
Ben Eielson bringing popular 'High School Musical' to the stage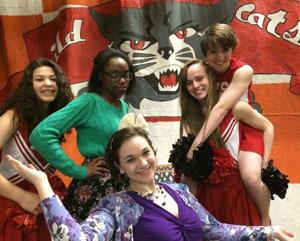 FAIRBANKS — It's the movie that catapulted Zac Efron to teen idol fame, and now it's on stage at Ben Eielson Jr./Sr. High School.
"High School Musical Jr." is the stage version of the wildly popular Disney movie that set tweens aflutter with Efron, Vanessa Hudgens and Ashley Tisdale. The stage production is a parred-down version of the hit flick but the premise is the same: jock and brainiac want to sing in the school's musical, and in doing so, divide the school's cliques before teaching everyone it's OK to be true to yourself.
Read full article
New Teacher Evaluation Process
Parents and community members can learn more about the new teacher evaluation process and provide feedback to the district administration at the link below.
Revised 2014-15 Calendar
Tuesday, March 24, 2015
The 2014-15 calendar was revised in response to an inclement weather closure.
The last day of school for students has been adjusted to Thursday, May 21.
School calendars are available for subscription in any preferred calendar program.
To subscribe to school calendars:
• Visit the Calendar page on your school website
• Click boxes to customize calendar feed
• Click iCal to generate customized calendar feed URL

Ben Eielson Testing Schedule
Ben Eielson Jr/Sr High School will be conducting testing during the months of February, March and April. The attached is a schedule of dates. For further information, please contact Ben Eielson @ 372-3110.
Eielson students to learn about medical field
FAIRBANKS — Students from Eielson Junior and Senior High school will meet with staff of the 354th Medical Group on Eielson Air Force Base today.
Thirteen students from the career and technical education class will spend the day with the medical group, participating in a number of hands-on activities as a group and several break-out sessions in smaller groups.
Read full article